1 min read
Bringing Pay Equity to Early Educators through an Outreach and Education Campaign
Noa Elliott Jan 31, 2023 3:32:00 PM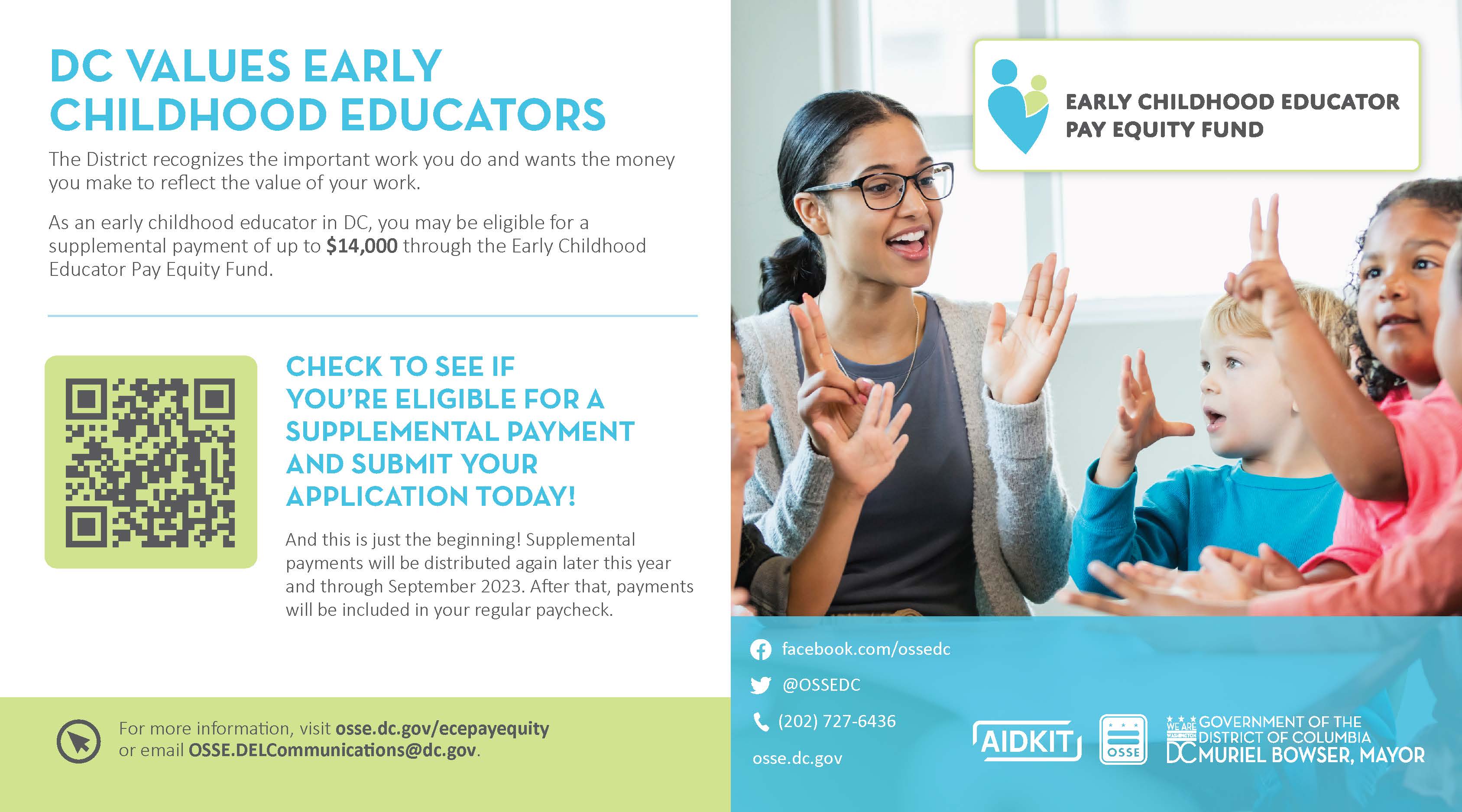 The Challenge
Groundbreaking initiatives can make a huge impact, but to do that, beneficiaries have to know how to take advantage of them. Especially in large, multicultural communities where many languages are spoken, capturing the attention of busy professionals is challenging, and speaking to the needs of each population with your communications requires multiple approaches, multiple media, and trusted community influencers.
How do we establish trust with the members of a community to advance a new initiative?
The Approach
When you tell people you're going to give them free money, there are going to be some questions. The Office of the State Superintendent of Education (OSSE) in Washington, D.C. passed the Early Educator Pay Equity Fund as a permanent program, offering educators an annual pay supplement of up to $14,000. During the first ramp-up year of the program, eligible educators needed to submit applications to receive the funding.

VIVA's first step was to establish a brand for the Pay Equity Fund, differentiating this program from any of the other initiatives OSSE operates. The clarity of the brand lent legitimacy to the program and promoted excitement about something new. A suite of printed materials, including workplace signage and personal mailcards gave clear instructions on how to get access to the fund, and increased name recognition.
Establishing trust is about true transparency and access. The two town halls we developed and coordinated were the most attended meetings in VIVA's history, with a total of over 2,300 attendees, who were able to listen and ask questions in English, Spanish, and Amharic, all virtually.
By the time the application closed, over 90% of eligible early educators had applied and were waiting to receive their check.
To ensure that incredible momentum was maintained for the next application cycle, we created a video, featuring the faces of the Pay Equity Fund, the early educators who received it. Through zoom interviews, we captured authentic conversations with educators in D.C. and OSSE leadership. Their stories share how impactful this initiative has been, and how they learned about it.
Without a successful awareness and information campaign, the Early Childhood Educator Pay Equity Fund would not have reached thousands of early childhood educators in D.C.
---
"VIVA was a critical partner as we worked to launch the Early Childhood Educator Pay Equity Fund.
From the development of messaging to the design, production and dissemination of program materials, VIVA provided strategic and thoughtful communications support."
- Deputy Superintendent for Early Learning Sara Mead, the Office of the State Superintendent of Education (OSSE)